Only two minutes away from the historical Jama El Fna square.Immersed in the evocative Medina of Marrakech stands Dar Bamileke - a splendid ryad recently renovated with love and respect for the artistic expression of the whole Africa. Crossing its threshold will bring you in full contact with a relaxed and joyful lifestyle, which western society has lost in the course of time.You will enjoy the Moresque setting, nicely smoothed by the soft colours and the traditional materials employed.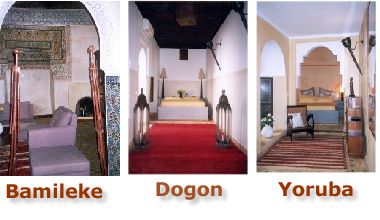 BAMILEKE : Suite with a large decorated living room, air conditioned (EUR 250.00).YORUBA : Elegant suite with private patio, air conditioned (EUR 175.00).DOGON : Comfortable suite with fire place, air conditioned (EUR 150.00).To rent the whole Ryad contact us.Prices include : Welcome and transportation on arrival.Breakfast and in the afternoon mint tea with little sweets.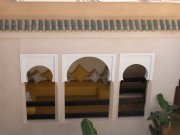 Our restaurants suggests typical Moroccan dishes alternated with light and well balanced meals. Massages done with base oils. Golfing, horse riding and hunting.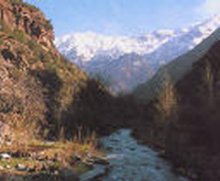 Gratuit : Tour of the city and the Medina.
Avec particiaption : Guided tour of the city and the Medina, either on foot or by bicycle. One-day excursions: Ourika valley; Essaouira, the ancient Mogador (splendid fortified maritime city); Safi (with its ceramics); Quarzazate; Qualidia (for the lovers of oysters and shell fish); Ouzoud (with its cooling falls).